When Minimal Disruption around Existing Structures is Key
The Compaction Grouting method is a zero-spoil ground improvement technique that efficiently densifies and stabilizes loose granular soils with low load-bearing capacities. It is particularly effective in use around existing structures and in environments where access is very limited and near vibration-sensitive areas. It has also been proven to be one of the most effective ground improvement techniques for stabilizing underground voids and sinkholes.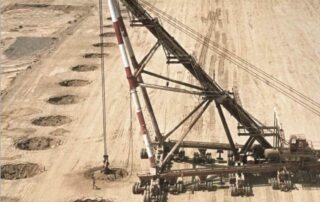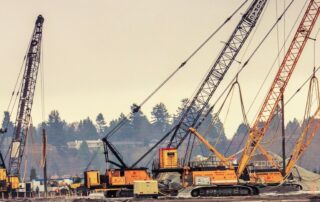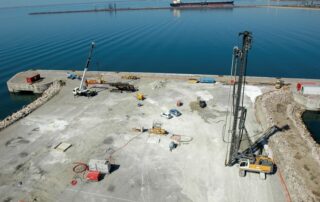 How it Works
The Compaction Grouting Method works by creating bulb-like structures underground, one on top of the other, until a column of bulbs has been created. This is done by displacing the poor soils in stages and at depth by injecting a high-density cement mixture into the ground utilizing drilled casings. This method is especially effective in scenarios where ground improvement is required but where there will be no actual connection to the existing structure's foundation, making it an unobtrusive solution to reinforcing soils without affecting existing structures.


Our Promise of Quality Assurance
All of our ground improvement proposals will always have straightforward pricing, so you will never have to worry about any unexpected project extras. The cost we quote you is your project's cost; it's that simple. Furthermore, we will always work to meet and exceed all your project expectations by performing tasks using the most thorough quality control measures possible to ensure a positive project outcome for your project; this is our promise to you.  
We invite you to review our testimonials below and see what makes Menard Canada different.
"It was a pleasure to work with the Menard Canada team. Our high-rise development was challenged by unsuitable fill, high groundwater conditions, and adjacent historic structures. The installation of Menard's ground improvement solution was executed within the allotted budget, schedule, and without any impact to the adjacent structures."
"We have worked with Menard to provide a Design- Build proposal for many projects that shared the trait of having poor soil conditions. Menard provided professional assistance and managed the soil improvements without issue. The cost savings, time savings, and ease of construction were all realized. We would strongly recommend them for all our future projects."
"Their expertise offered us complete solutions, including engineering and construction. From a simple geotechnical study, they can validate possible and alternative methods in a very short time. Being very available and creative, they have become a reference for our projects that require a more advanced geotechnical expertise."
"Menard was well prepared for the job, showed up with all of the equipment that was needed and started right away. There were some challenges, and extra equipment was required, but Menard got it to the site quickly. The Menard team was good at reporting progress and challenges."
"Generally quite impressed with the work Menard did. The process itself is simple and effective. The project setup, coordination and installation were straightforward. The field staff were easy to work with and were accommodating with other enabling site works."
"It's been an absolute pleasure working with Menard. From the first day you arrived, we noticed the professionalism and preparation that was put in to execute this job well. You've allowed us to get one month ahead of schedule by starting two weeks early and finishing two weeks early."
"Menard did an excellent job installing the stone columns for us in extremely challenging ground conditions; it was much appreciated!"
"The Controlled Modulus Column method avoided the impacts of deep shoring and dewatering while limiting the volume of excess soil generated on our site. All of this combined to simplify our foundation construction and get our project out of the ground."
"Menard turned up on site as expected and worked without interruption to complete their scope. We are very pleased with Menard's performance, and they will be our first contact for future projects requiring soil improvement."
"As a general contractor, we often have to find efficient and economical solutions when soil quality is an issue in a project. On many occasions, Menard's soil improvement solutions have significantly reduced the cost of a project. Whether it is through dynamic compaction or Vibro replacement, we have often been able to avoid pile foundations, thus reducing the budget and the schedule. In addition, Menard's soil improvement solutions allow our clients greater flexibility in the future modifications they wish to make to their building."
"The Menard team went out of their way to make the process both pleasant and efficient and wouldn't have any reservations about using Menard in the future."
"We contracted Menard Canada for the ground improvement works under two residential buildings and an amenity building in Chatham, Ontario. Their team worked with the Structural and Geotechnical Consultants during the design phase to find a solution to the local ground conditions – which proved to be very beneficial for the development of this site and the project as a whole. They then carried out the designed ground improvements on site; our team appreciated Menard Canada's professionalism and proactivity. After the completion of the work, the Menard Canada team was available for questions and always provided feedback right away. Menard Canada would definitely be our first choice for any ground improvement on our next projects."